Pulished on Jun. 22, 2022
Today, there are many contemporary designs of door handles in the ironmongery market to match every type of interior, be it residential or commercial.
The latest trends tower to satin finish mostly; however, depending on each personal style, here are the most sought after door hardware styles:
● Matte black
Door furniture in a matte black finish gives a luxurious feel to modern interiors. Matte black door handles have risen in demand since homeowners opt for contemporary black details in their furniture pieces and home décor.
The matte black door hardware comes in a collection that complements internal doors: door hinges, latches, locks, keyhole shields, and bathroom thumb turns and releases.
This bold colour can make a powerful statement when added to any door type, especially if matched with natural wood finishings.
● Satin finish
The finish of satin stars a subtle gloss that holds well against fingerprint marks and smudges, making it a low maintenance finish. This is why the satin finish is the most trendy option for busy homes where style and serviceability align.
Satin finish suits contemporary interiors, and the finish is durable and easy to maintain.
● Chrome polish
Chrome door handles display a neutral tone suiting modern styles that will never be considered dated. Prevalent are the ones on rose because they have a minimalist presence on the door's facade.
The chrome polish offers a sense of continuity regarding the door's general cosmetic when fitted with additional chrome fixtures, fittings, and furnishings in either a reflective polished finish or smooth satin.
The cool tone of chrome matches many other household furniture and furnishings, making it the best choice when you need to coordinate other fixtures and accessories in your home or office.
Other popular styles include:
● Dual-Tone or Two-Tone hardware
● Antique Brass or Aged brass
● Nickel finishes
● Wood or china finishes
● Glass encrusted
● Polished Brass
● Copper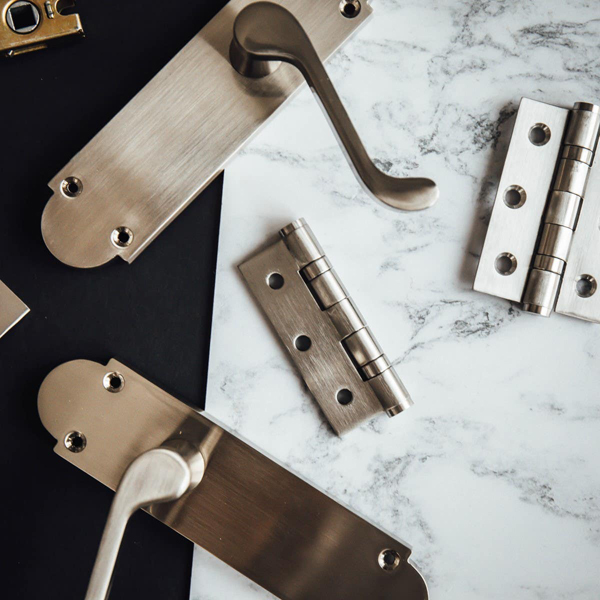 WHAT IS DOOR HARDWARE?
Door hardware or door furniture refers to door handles, door levers, door knobs and the plates they are attached to.
A door without suitable door hardware looks incomplete, and the selection of door handles or door knobs you choose will be an important detail that will showcase your home's tasteful design.
Door hardware links together various design details improving the natural flow within the property, from one room to another. Although small in size, these items need to complement the overall design scheme of your home.
Moreover, the door furniture must be suitable for its purpose, be durable and fit for carrying out its role day-to-day. There are many alternatives in terms of size, type, and design. But where do you start?
SHOULD DOOR HARDWARE MATCH THROUGHOUT THE HOUSE?
If you would fancy creating a bespoke style for each room, you can use a mixture of unique door handles throughout the house. You will need to carefully choose the surrounding accessories to create a pleasant and chic combination of styles.
When aiming for uniformity across the whole property, you should look at using the same door and handle style.
LATEST DOOR HANDLE AND DOOR KNOB DESIGNS
Internal doors are an indispensable practical feature inside any property, serving as privacy dividers and entrance points connecting separate living areas.
A contemporary four-bedroom residence may typically have between 11 and 18 internal doors reaching even higher in more traditional properties. Choosing the best door handle or door knob design will need to match the needs of your home, keeping the look consistent with the style of your home as a whole:
● Lever handle on rose – Simple and highly versatile, this handle suits most homes. The 'roses' where the handle attaches can be rounded or squared, with designs encompassing modern, minimalistic and classical trends.
● Lever handle on a backplate – is a classic door hardware style that matches exceptionally traditional layouts. However, these come in many contemporary designs and finishes to suit modern living spaces.
● Traditional mortice door knobs – match more conventional interiors.
● Modern mortice door knobs are frequently used in more contemporary contexts, often having a glass or a smooth glossy finish.
● Rim knobs – are used with a rim lock and are an excellent match for traditional and period settings.
WHAT COLOUR DOORKNOBS ARE IN STYLE 2022?
The most popular colours for doorknobs in 2022 are matt black, brass and polished chrome.
In recent years, there has been a trend of people choosing dark colours for their doorknobs. Dark-toned door hardware is prevalent in many homes, likely because it can give a room a more modern and sophisticated look.
However, high-shine finishes like brass and polished chrome are also becoming increasingly popular, as they can add a touch of timeless luxury to any room.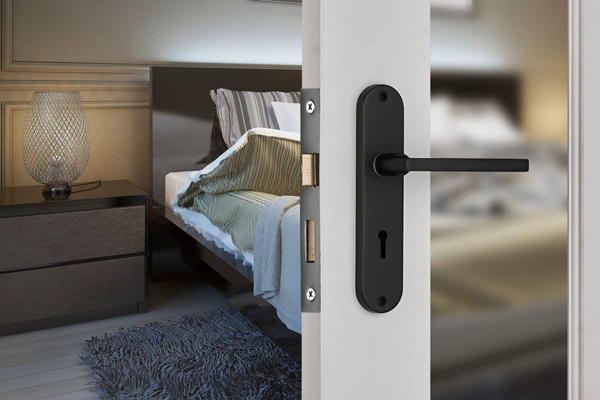 MATT BLACK
In 2022, people will become more drawn to black and white colour schemes; thus, black hardware will be especially popular. Adding a black handle to a white door provides strong contrast, creating that basic yet elegant atmosphere that individuals desire.
Black, which is dark, moody, and dramatic, has remained the colour of choice for making bold décor. Whether you're using it to blend with a dark interior or create depth against a monochrome or coloured backdrop, you may utilize the colour to a significant effect.
BRASS
Thanks to the opulent interior trend, brass is making a comeback.
Brass is a versatile finish that creates a luxurious, glamourous aesthetic and complements many interior design schemes.
In 2022, we predict that more designers will incorporate iconic pieces and timeless designs into their work to create a luxurious and opulent appearance. In this case, polished brass doorknobs and cabinet hardware will be essential elements.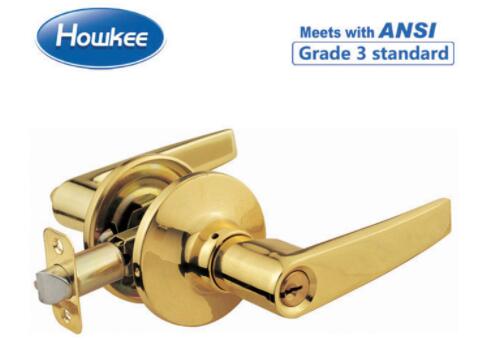 POLISHED CHROME
Polished chrome has a beautiful, sophisticated tone that you can combine with nearly any colour or design. It's the best option for creating uniformity throughout a home design scheme.
Bright polished chrome finishes have an appealing, sleek, and versatile look that adapts to almost any area - from bathrooms to bedrooms, kitchens, and living rooms.
Polished chrome blends seamlessly with other household appliances, fittings, and fixtures with its neutral-toned finish. Those in a similar neutral finish, such as stainless steel, will create a cohesive design throughout the home.
LEVER DOOR HANDLES OR KNOBS?
Door knobs are great for a more discreet look. They also offer flexibility in terms of where they can fit on the door.
Thanks to its timeless appeal, this type of door hardware can be found in historical buildings and modern dwellings.
Door handles are easy to use on domestic and commercial premises alike and are more modern than doorknobs.
COMMERCIAL HARDWARE FINISHES
In commercial buildings, the building's utilisation is usually the primary driver in selecting the door hardware.
Satin chrome - is the most wanted style as it offers a modern look that fits in with most commercial buildings' styles.
The chrome is added on top of another metal to provide extra strength and endurance to corrosion. Thus it is very durable and withstands more wear-and-tear.
Choosing the best style of door handles and door knobs for your property, be it for commercial or private use, might seem a chore, especially when you have to think about locks and latches as well.
Read our related articles for more tips and advice, and don't forget to choose the best door hardware from our star products!