Pulished on Jul. 21, 2022
Choosing the right type of door handle is always an important decision when adding doors to a newly decorated room or home. One of the most exciting parts of interior decorating is being able to choose between various finishes.
Door Knob Functions
● Passage Door Knobs (Hall & Closet) – No locking mechanism. Commonly chosen for closets & hallways–rooms that don't require privacy.
● Privacy Door Knobs (Bed & Bath) – Chosen for bedrooms and bathrooms and is equipped with a locking mechanism (button or turn) for privacy. Most privacy sets have an emergency hole on the outside to unlock and allow entry. These differ from exterior entry door hardware that has a lockset (for security) that works with a key on the exterior and a button or turn on the interior.
● Half Dummy Door Knobs – These door knobs basically work the same as the dummy door knobs, however, only one knob or level is installed. These are used where a knob or lever is not necessary on the inside of the door–functions as a way to pull the door open only.
● Dummy Door Knobs – Don't be fooled by the name–dummy door knobs are some of the smartest solutions around. If you are looking for something simple, and you don't want a lot of installation requirements, these are the right door knobs for you. You don't need to use a mechanical latch mechanism or a hole saw to install them. Most commonly used for pantries, closets, double doors and utility rooms. There are plenty of decorative dummy door knob options to choose from.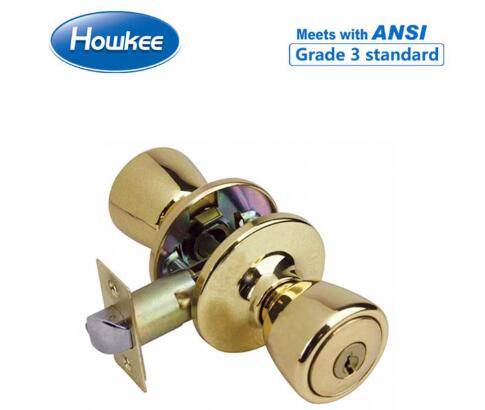 TUBULAR KNOB 5 SERIES (HALF-MOON SPINDLE) 5762 PB ET
Door Knob Finishes & Colors
There are a lot of finishes and colors to consider. We've highlighted some of the more popular door knob finishes below:
Brass
Brass is a reliable metal that adds a touch of sophistication to any renovation project. Brass is a little more "vintage" and will be seen in bright (shiny), satin, and antique varieties. The silvery-gold color adds a lot of vibrancy to an otherwise stagnant room. Plus, brass is easy to clean!
Copper
Copper offers quite a unique color when it comes to interior accents and decor. It is unmistakable, and your door knob will surely draw positive attention when it comes in copper. This is a durable metal that can be polished to always look neat and clean.
Oil Rubbed Bronze
These door knobs can pair well with almost any interior decorating style. The oil rubbed bronze gives a dark, almost charcoal-colored look, although there are several metallic color options available with a typical purchase. This is another unique option for those looking to stray a little bit away from the norm.
Satin Nickel
Satin nickel door knobs are some of the more traditional and simple door knob options available. If you're looking to renovate quickly, or you want something that can easily lock and unlock, you can trust in satin nickel designs. Most of these door knobs come in rounded shapes, with simple latches that can be installed on any kind of door.
Chrome
In recent decades, chrome has emerged as one of the most popular and affordable interior decor options for a variety of accents and appliances. Chrome door knobs are easy to find at your local hardware store, and they come in a variety of shapes and sizes. Nothing is shinier than chrome! You can polish them every day or clean them occasionally to achieve a great and clean effect.
Glass/Crystal
Glass door knobs always provide an elegant touch to your door. Glass knobs will always be popular because they never go out of style. These classic options are guaranteed to add a touch of sophistication to your room or entryway. You can even add custom finishes to the handle to make the style your own. They can be affixed to a gold or silver backing, with a classic shank to complete the elegant look. Most of today's "crystal" door knobs are actually glass. If you have a period home, you will need to take the original hardware with you to find authentic crystal door knobs. Authentic antique knobs will consist of a better quality metal. Be aware that crystal door knobs can start a fire when sunlight passes through due to the fact they act like a magnifying glass.